Pay-type Distribution Panel System
Darkness to Light(D2L) is a pay-type distribution panel for outdoors including a main control panel that controls up to one hundred field consoles. D2L improves not only the electrical safety but also convenience of management regarding field sites by providing time-based billing options.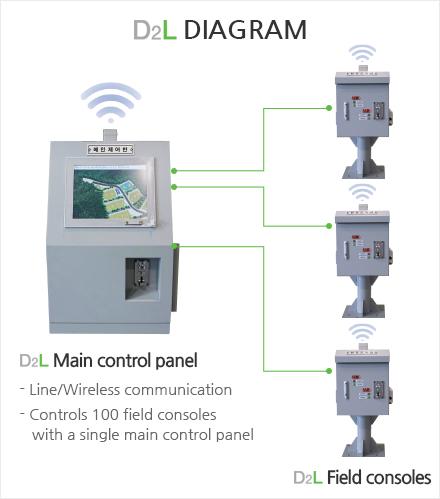 Pay-type distribution panel system of prepaid format.
Possible to select from line/wireless systems.
Charges electrical bills according to electricity usage time.
When using excessive electricity, it is possible to automatically block power and return.
It is a pay-type distribution panel system that is controlled with a touch screen and is water proof processed for outdoor use.
Reasonable electricity use through a temporary stop button.
Vocal guide.
Collects reasonable electricity bills for the usage.
Increases the safety of the camping facility.
Increases the manager's convenience.
Can be used in places that require temporary electricity and reasonable electricity charges (camping facilities, sports facilities, fishing area, electricity charging facility etc.)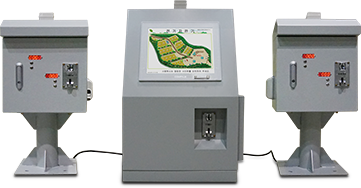 Classification
Separate type
Central A type
Central B type
Product explanation
Insert coin from the field operation panel
Only possible to insert coin from the main control panel
Possible to insert coin from the main control panel and the field operation panel.
Main control panel
X
◯
◯
Field operation panel
◯
X
◯
Vocal guide
X
◯
◯
Advantage
Ÿ  The distance restrictions are relatively small
Ÿ Can control field operation panel with the central control.

Ÿ The management of coin collection is convenient

Ÿ Can control the field operation panel with central control

Ÿ Easier camping electricity hook-up when the camping area is far

Ÿ Possible to use the field operation panel even when the main control panel is not functioning

Common
Ÿ Temporary stop function

Ÿ Automatically blocks power when using over 2kW of power

Ÿ When the coin insertion function does not work, energy can be supplied with the internal operation of the field operation panel.

Ÿ  Time based billing settings: Can set the time per price

Ÿ Can use two camp electricity from a single field operation panel (According to requirements, a single camp's electricity can be used.)

Ÿ In the case of central A, B type, the field operation panel can be managed from the main control panel. (Time settings, time extension, time reset, etc.)

Ÿ In the case of central A, B type, a hundred field operation panels (200 camps) can be controlled with 1 main control panel installation.

Additional options
Ÿ Can construct a reasonable cost charging system by connecting with washing machines and heaters, etc.

Ÿ Can construct electricity usage monitoring systems.
Vending machine type panel board (no. 10-1538661)