Distribution Panel with Power Loss Measuring Controller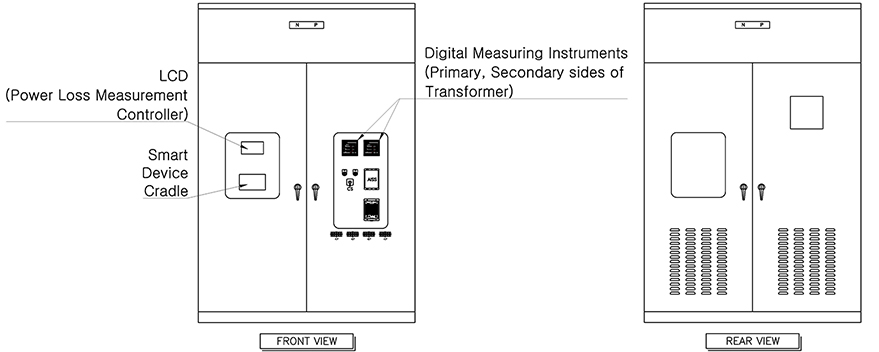 IoT-based smart distributor is an IoT distribution panel that improves power quality by resolving problems related to power transmission loss and power loss measurement.
by comparing and reducing secondary valid power from the primary valid power through the power loss measuring controller and by measuring transformer's power loss, it can monitor the changing transformer's power loss according to the operational state of power.
With the touch LCD and smart device of the power loss measurement controller including voltage, current, power factor, valid power, invalid power, harmonic waves and frequency etc., the facility operator can clearly monitor the power's operational conditions.
It can manage power quality and diagnose energy efficiency such as power transmission loss between the input and output and harmonic waves from the distribution system.
Secures quality and safety of the distribution system.
It is possible to monitor power on IoT panel itself without a separate power observation system.
Convenient for the manager to supervise and manage the operational status of the distribution panel.
Comparison with the previous distribution panels
| Comparison item | Previous distribution panel | IoT-based smart distributor |
| --- | --- | --- |
| Measure power loss | X | O |
| Compare harmonic waves | X | O |
| Provide information | Previous measuring instrument | Previous measuring instrument, Loss measuring controller & smart device |
| Remote data acquisition | Requires power grid servers | Can be acquired directly from the loss measuring controller |
| Provide transformer optimized operation solutions | X | O |
| Provides solutions for power factor maintenance | X | O |
| Separate power observation system | Required | The loss measuring controller can do this |
Distributing board measuring power loss and comparing input harmonic signal and output harmonic signal (no. 10-1212579)
Power dissipation measurement algorithm and equipment (no. 10-1674402)
Method for measuring power dissipation in electric power grid (no. 10-1715778)